Azerbaijan Airlines Expands Its Indian Reach with Mumbai-Baku Direct Flights
Azerbaijan Airlines, a prominent player in the aviation industry, is thrilled to announce the launch of direct flights between Baku and Mumbai, set to commence from November 2023. This momentous development promises enhanced connectivity and convenience for travelers between two countries. The direct flights between Mumbai and Baku will be three times a week. Already, the airlines is operating three weekly flights connecting Delhi and Baku, this expansion will open up new horizons for travelers, particularly those in Western, Southern, and Eastern India.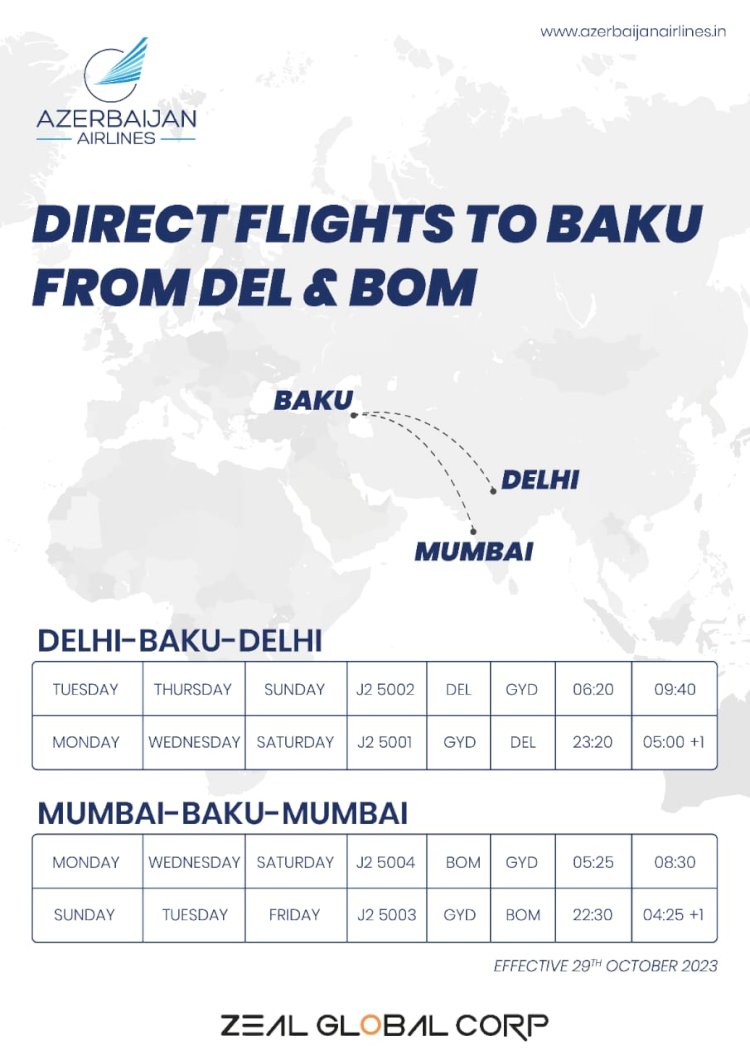 Azerbaijan Airlines is renowned for its full-service offerings, including complimentary hot meals and a wide range of beverages, all within the ticket cost. With this new direct route, passengers from Mumbai and surrounding regions can now enjoy the convenience of a four-hour non-stop flight to the enchanting city of Baku.
What sets Azerbaijan Airlines apart is not only the convenience of a shorter travel time but also the flight schedule designed to maximize value for passengers. The morning arrival in Baku and late evening departure from Mumbai is a unique selling points, ensuring that travelers can make the most of their time and resources.
As the exclusive partner of Azerbaijan Airlines in India, Zeal Global Corp is set to play a pivotal role in facilitating seamless travel experiences and connecting B2B Travel trade in the region.
The introduction of direct flights signifies a significant step towards strengthening diplomatic, cultural, and commercial ties between Azerbaijan and India. Travelers can now look forward to a more efficient and comfortable journey, eliminating the need for multiple layovers and extended travel times.
Azerbaijan Airlines is committed to providing safe, reliable, and world-class services, and this new route further exemplifies our dedication to enhancing international connectivity.
Zeal Global Corp's networking dinner for travel trade partners in Mumbai is a testament to their commitment to fostering strong and enduring relationships within the industry. Such initiatives are not only a reflection of their dedication to collaboration and synergy but also a demonstration of their support for the travel trade community.
Mr. Vishal Sharma, Managing Director of Zeal Global Corp, rightly pointed out, these gatherings provide an invaluable platform for travel trade partners to connect, exchange ideas, and explore opportunities for growth. In an industry where personal connections and trust are paramount, events like these strengthen the bonds that underpin successful partnerships.


---