Road Trip in Thailand
Written by Meenakshi Gupta (Tanhadil.in)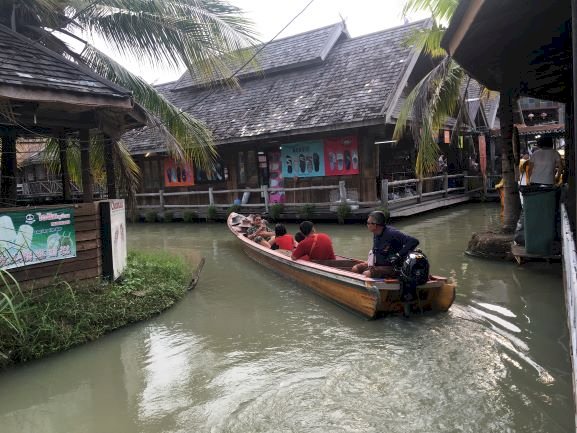 Thinking of travelling to Pattaya! Pattaya is the city in Chonburi Province in the east coast of Thailand and easily accessible by road. The city is famous for its beach, amusement and water parks, sea aquarium, floating market and nightlife. But visiting Pattaya via Chanthaburi and Rayong by road is an experience by itself.
A well-planned road trip from Bangkok to Chanthaburi via Chonburi can give totally a new experience crossing countryside from small towns satisfying your soul with the greenery and lush landscapes of Thailand.
SUAN LAMAI (Rayong) "Kingdom of Fruit on the Mountain"
The first stop after you leave Bangkok is Lamai Sheep Farm.
Suan Lamai Fruit Garden is the place to enjoy delicious fresh fruits from the displays or pick them by yourself and taste some ripe fruits right from the tree. During the season visitors are welcomed with a variety of fruits, including durian, rambutan, mangosteen, pomelo, rose apple, longan, Zalacca, dragon fruit, langsat, starfruit, sweet yellow Marian plum and grapes etc. Acres of land are cultivated surrounded by mountains and natural forests to grow varieties of fruits and is open for visitors for happiness and fun to directly eat from the trees or from the buffet. The farm is open for visitors for various activities like eating a fruit buffet, strawberry fest etc.
Chanthaburi
Chanthaburi is about 250 km south-east of Bangkok is like any other modern provincial cities which actually takes you back in time hundreds of years, the city of Chinese and Vietnamese.
A relaxed stroll along the old town of Chanthaburi next to Chanthaburi riverfront takes you to the history of old houses. Some of which are converted into riverside restaurants offering a variety of cuisines, Chinese and Buddhist temples, the community culture, tiny shops selling semi-precious stones and jewellery, antiques and local street food. The street is famous for its best street food available in Chanthaburi. Also known as Chanthaboon Waterfront is the only area with waterfront houses and gives you an experience of local life and lifestyle right from mornings till evenings having a very tranquil and laid back atmosphere.
At the end of the waterfront community road on the banks of Chanthaburi River stands tall the Cathedral of the Immaculate Conception, which is accessible from the other city side also. The church is the largest church of Thailand, Built-in the way back 1711, the magnificent structure is a must see. A view of the church from the small bridge over the river gives you the most scenic sight.
Ko Samet, Rayong
Ideally, a day or two is good in Chanthaburi. At a distance of about 120 km and 2 hours of drive lies Rayong which is famous for its fun-filled Ko Samet island. The island is about 200 km from Bangkok and is a popular family chill out destination famous for its sports, coral reefs and cuisine.
One can reach Ban Phe from where its just a 20-minute ferry to the island. Ko Samet is an understated island delight where the things to do are not highlighted but to enjoy the beaches and roadside food is what is it for. However, there are few activities for those whom the beauty of beaches is not enough. The island is well-developed tourist place with a number of accommodations, restaurants, bars and convenient stores. The island also offers PADI Scuba Diving certificate. October to April is the best time to visit the island when the seas are calm. Some beaches are allowed for camping with rental tents and camping grounds available.
Ramayana Water Park
On the way from Rayong to Pattaya is the largest water park in South East Asia called Ramayana Water Park. The Park is just 15 km away from Pattaya. The park is located within a natural environment of surrounding lakes, hills and greenery. Ramayana offers 21 water slides and a unique river slide, which ends in a Lazy river. The 21 water slides offer a variation of thrill slides like a Freefall and AquaLoop, competing slides like the 4 Mat Racers or the 2 Aquacoaster, raft slides like Python and Aquaconda, a Boomerango or some gentle alternatives like Serpentine, Spiral or River Slide.
The Ramayana theme of the park allows guests to explore an ancient city, with caves, sculptures and other remainders of "a long forgotten place". Ramayana offers 2 dedicated areas for children, which are also unique to this park. One play area, with a variation of spray attractions, is specifically designed for smaller children.
Ramayana also offers attractions on dry land, like a floating market built into the natural lake, an iconic sculpture, a walk along the banks of a natural river, a sand play area, a maze (labyrinth), waterfalls and encountering real elephants.
The Park is well equipped with world class amenities right from lockers to changing rooms, restaurants, a shop for buying basics, Thai massage, free wifi and cabanas to relax.
Pattaya
Once done with Water Park, all roads lead to the dream city Pattaya. The city of fun, food, adventure parks, beaches, theme parks, zoos, underwater Aquarium, stage shows, night markets, nightlife and much more which can never be explored in one or two visits.
KAAN Show
One of its kind, with world-class technology, an amalgamation of live action, visual effects, cinema and stage performance with water, fire, animals, acrobats, song and dance, only at KAAN show at Singha D'Luck Cinematic Theatre, Pattaya. 75 minutes of breathtaking performance inspired by classic Thai literature will leave you spellbound. Presented by Singha Corporation, KAAN is one of the outstanding shows in the entertainment industry across the globe. KAAN The extraordinary theatrical experience brings together an outstanding cast and crew of more than 600 creative professionals. These professionals have spent more than 3 years in developing the project and almost 2 years of rehearsals to ensure the thrill and excitement enchants its audience.
Floating Market
Located on Sukhumvit Road,
Pattaya Floating Market proclaims to be the largest man-made a floating market in the world. Covering an area of 100,000 square meters the Market has four main areas which represent architecture and culture from the north, northeast, central and southern Thailand. A flavour of Thai culture plus authentic Thai teak wood architecture is what the Pattaya Floating Market is really about. You will find an array of local eateries, fruit stalls, souvenir shops and some art galleries in over 114 shops and water vendors selling authentic Thai food, desserts and specialities from all over the kingdom. Thai food, fruit and vegetables can be bought at the food stalls, restaurants and cafes. Food vendors also navigate the waterways of Pattaya Floating Market selling fruit and traditional Thai snacks.
For a floating market experience, get into a boat at a nominal fee and discover the riverside life. A walk through the hundreds of wooden houses built in the different styles of the four regions is lovely and cool. There is also a daily free show featuring four cultural performances. This is a good place to get away from the fast life of Pattaya and is a must-do for those who have yet to visit a Thai floating market.
Art In Paradise
Is it an art gallery? No! Is it a museum?
No! Then? So, if you are fond of taking quirky pictures, Art In Paradise is the real paradise of Art. Art In Paradise is the first unique 3D imaging museum in Thailand, located in Pattaya as the largest three-dimensional museum in the world. The museum is designed to provide visitors with true art. All works were created by the painter. Twelve Koreans, created the amazing three-dimensional images, illusions for this museum to keep visitors entertained. It is a part of sharing experiences with three-dimensional art. This is the perfect place for kids, youngsters and even senior young ones.
EXPRESS INFO
Currency– 1 THB = 2.12 INR ( approximately)
Time to Visit– Though its little warm during April- May but the destination can be visited throughout the year.
Travel– Since it is a road trip, travel by bus or by own car is ideal to spend time at each spot leisurely.