Costa Serena Flagged Off Ceremony in Mumbai
International Cruise on Indian Shores
Mumbai witnessed a momentous occasion as Costa Cruises celebrated the arrival of the Costa Serena at an event on board the Italian-flagged ship. The grand event marked a significant milestone for Costa Cruises, coinciding with its 75th-anniversary celebration. On November 4, 2023, the Costa Serena commenced its journey from Mumbai, set to offer a unique cruise experience for Indian travelers.
Shri Sarbananda Sonowal, Union Minister of Ports, Shipping, and Waterways, officially flagged off Costa Serena. Francesco Raffa, Director Asia Region & Growth Markets of Costa Cruises, Nalini Gupta of Lotus Aero Enterprises, the General Sales Agent (GSA) of Costa Cruises, and other senior officials.
From November 4, 2023, to January 11, 2023, the Costa Serena is scheduled to home port in Mumbai, embarking on an exciting program of 2, 3, and 5-night itineraries that explore not only Mumbai but also Kochi, Goa, and the enchanting Island of Agatti in Lakshadweep. This new initiative promises a fresh and captivating way to explore India's coastal beauty and the rich cultural diversity of the region.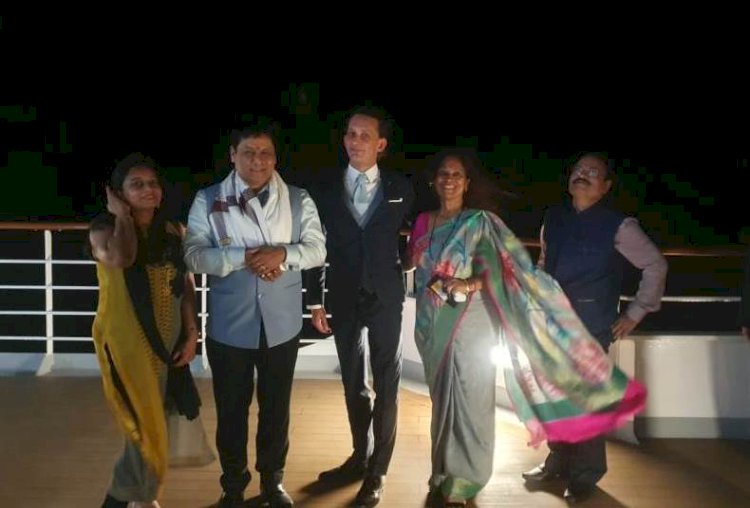 On board Costa Serena guests will enjoy a wide range of international-style experiences, enriched with the Italian warm hospitality that has characterized Costa for 75 years of history. A local touch will also be featured: in particular, gastronomy and entertainment will be tailored to the tastes of Indian guests.
The last itinerary celebrating the completion of its India program will also explore the spectacular Maldives.
Costa Serena sailings in India are ideal for both families and couples. The cruises are also a great option for wedding ceremonies, groups, and corporate incentive travel, thanks to the ship being able to offer reserved areas and services.
Shri Sarbananda Sonowal, Union Minister of Ports stated, "We are offering our full support to the cruise line to home port their ships at Indian ports. We are ready to support further development of our port infrastructure to accommodate large cruise ships. It is a moment of pride for us that when the Mumbai Port completes 150 years, we have Costa coming back to offer domestic cruising options to Indian travellers."
Francesco Raffa, Director Asia Region & Growth Markets, Costa Cruises stated: "We are extremely happy to sail again in India where we've been operating since 2016. We are bringing to our Indian guests authentic Italian hospitality with a local personalization in terms of food and entertainment. India is an important market for Costa, both for our established Fly&Cruise programs to Dubai and the Mediterranean and our newly introduced local operations sailing domestically. We are grateful to the Indian government for the efforts to support the domestic tourism and on infrastructures development. India is working to develop the cruise industry and we are excited to sail together towards the vision of the Indian government."
Nalini Gupta of Lotus Aero Enterprises added: "I am happy that Costa is back to the Indian shores with dedicated domestic itineraries after a temporary pause. We are looking forward to a great season ahead. With Costa there will be the opportunity of easily accessible cruises with just their Aadhaar card. It will give Indian guests the opportunity to discover the country's most beautiful locations from a unique point of view. Indians will be able to easily access an experience of vacationing right from home without the hassle of visas, flights while still getting that international holiday experience with the Indian touch."
Costa Serena has a total of 1500 cabins, 505 of which have private balconies, and 14 passenger decks. To make the most of their cruise on board, guests can choose from a wellness centre and a gym with a sea view, a beauty salon, a theatre, restaurants serving Indian and international cuisine, bars, 4 swimming pools, 2 of which have self-propelled glass roofs, a shopping area, and a kids' club for children and teenagers.