Ministry of Tourism launched 'UTSAV'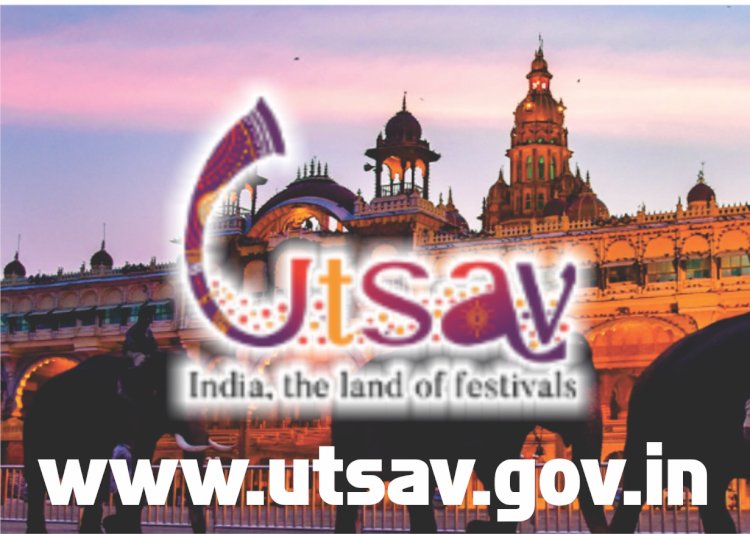 The Utsav Portal website, a digital initiative launched by the Ministry of Tourism, Government of India aims to showcase all the events, festivals and live darshans across India to promote different regions of the country as popular tourist destinations worldwide. The objective is to showcase various elements, dates and details of the events and festivals of India on a global platform and increase tourism awareness, attractions, and opportunities by providing tourists with contextual digital experiences in the form of visually appealing photographs and stills from the events. Additionally, the objective is also to let the devotees and travelers experience and view the sights of some of the well-known religious divine shrines in India in the form of Live Darshan.
The Utsav portal will also have the official social media links, official websites, brochures, contact details of the organizing committee and the details of how to reach the destination through the air, rail and roadways conveniently, thus establishing a better contact with the tourists and aiding the visitors in planning their trip to these destinations.
The immersive experience-based content is provisioned on the website under various categories like Art & Culture, Spiritual, Music, Seasonal, Culinary, Dance, Sports & Adventure, Harvest and Expo & Exhibitions. There is a section that lists the major festivals celebrated in India to ensure that international and domestic travelers can plan their trips for these festivals well in advance. The website aims at showcasing the beauty of India, the land of festivals, in a global arena by aiding travelers with compelling, relevant, and contextualized digital experiences enhancing tourism awareness, attraction and multiplying the travelling opportunities.
The website now comprises a plethora of information on more than 80 events, festivals and live darshans from 28 States and 9 UTs along with detailed attractions. The website will be dynamic and constantly evolving with additional new information about all the upcoming events, festivals, and exhibitions, periodically.